(14:27 - 2011/07/22)
Redlight - Virus (RV-1118 A)
3 Hours Ago:
I Was studying about the virus and i thinked: "maybe the virus is at found at nature"
1 Hours Ago:
I Go to the Middle of the Desert and Find a parasite, and i go search through nature but i didn't find anything.
Now at 14:27 - 2011/07/22:
When i get back to S.T.A.R.S Laboratory, i begin Looking the Virus and I cut myself with a knife and put the virus with my blood on a receptor. Look the Photo:
After this I increased my vision of the microscope and i take another photo, The Virus was incubated with the cells and red blood cells, red blood cells when they suddenly begin to make themselves more.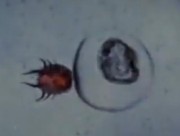 At Time we dont have notion from what happen if its come inside a zombie or Inside a Human, but we need to study it!
Here is S.T.A.R.S member Vitor Matheus, Codename: Black Eagle
passing the information to all members of S.T.A.R.S.
Vitor_Matheus